Antibodies
We provide cytokines, growth factors, chemokines, CD antigens, neurotrophins, hormones, enzymes, viral antigens, recombinant proteins, natural proteins, monoclonal antibodies, and polyclonal antibodies.
Please search your products from here!
Buy 2 Antibodies, Get 1 Free!
Purchase any two antibody products and receive a listed antibody product of equal or lesser value for free (Epitope Tag Antibodies Only). Order starting from now to Nov. 15, 2018!
Order two products online at regular price. Enter the promotion code STOCKUP and the name of the free antibody in the Special Instructions or Comments About Your Order area. Offers are valid from now to Nov. 15, 2018. This offer is not to be combined with any other promotions or quotes. Must use the promotion code STOCKUP to redeem.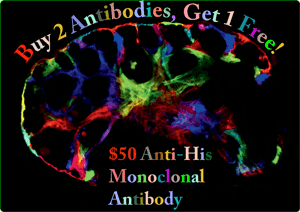 All orders placed between Nov. 15, 2017 and Nov. 15, 2018 are eligible for free standard shipping. Free shipping is available for all LifeTein orders with a total of $200 (Domestic, promotion code: WEB2018D) or $500 (International, promotion code: WEB2018I). Must use the promotion code to redeem.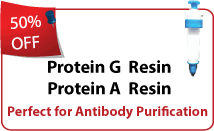 Highlights
LifeTein offers a wide variety of secondary antibodies, control immunoglobulin and control sera for a large selection of species, including mouse, rabbit, goat, donkey, chicken, rat, hamster and sheep. Specialized secondary antibodies, such as our isotype specific secondary antibodies and F(ab')2  secondary antibodies are available and allow for highly specific results. Control immunoglobulin and immunoglobulin conjugates are useful negative controls. Normal sera is offered to be used as blocking reagents.
---
Antibody Products:
Cat. No

Product Name

Applications

Price

Download
Data Sheet

Order

   LT0420
Anti DYKDDDDK(FLAG)
Monoclonal Antibody
Buy one FLAG antibody,
Get one FLAG peptide for free.
Use Code: FREEFLAG When Checkout.
Dot, ELISA, IS, IP, WB
$190 $150

   LT0426    
Anti His Monoclonal Antibody
Dot, ELISA, IP, IS, WB    
$190 $50

   LT0422
Anti HA Monoclonal Antibody
Dot, ELISA, IP, IS, WB
$110    

   LT0421
Anti cMyc Monoclonal Antibody
Dot, ELISA, IP, IS, WB
$210 $150

   LT0423
Anti GST Monoclonal Antibody
Dot, ELISA, IP, IS, WB
$220 $120

   LT9992
Anti V5 Monoclonal Antibody
Dot, ELISA, IP, IS, WB
$150

   LT9994
Anti GFP Monoclonal Antibody
Dot, ELISA, IP, IS, WB
$100    

   LT9993
Anti RFP Monoclonal Antibody
Dot, ELISA, IP, IS, WB
$110    

   LT9999
Anti β-Actin Monoclonal Antibody
Dot, ELISA, IS, WB
$210 $150  

   LT9995
Anti GAPDH Monoclonal Antibody
Dot, ELISA, IS, WB
$210 $110  

   LT9991
Anti β Tubulin Monoclonal Antibody
Dot, ELISA, IS, WB
$210 $110  

   LT9998
Anti ERK1 (E19) Monoclonal Antibody
IP, WB
$260    

   LT9997
Anti ERK1 (E32) Monoclonal Antibody
IP, WB
$260    

   LT9996
Anti ERK1/2 Monoclonal Antibody
WB
$260    
Rabbit Monoclonal Antibodies
Cat. No

Product Name

Applications

Price

Download
Data Sheet

Order

LT_R001
Anti-human β-Actin Monoclonal Antibody (clone 4C4)
ELISA, WB, IF
$250, 50ug

LT_R002
HRP conjugated Anti-human β-Actin Monoclonal Ab (clone 4C4)
ELISA, WB, IF
$250, 50ug

LT_R003
Anti-human Creatine kinase-MB monoclonal antibody (clone 8F1)
ELISA, WB, IF
$250, 50ug

LT_R008
Anti-human CCL18 Monoclonal Antibody (clone 12B9)
TIA, WB, IF
$250, 50ug

More Rabbit Monoclonal Antibodies
Anti-HEL (Hen Egg Lysozyme) IgG isotype control
Cat. No

Product Name

Applications

Price

Download
Data Sheet

Order

LT12031
Anti-HEL Human IgG1 isotype control
ELISA, IS, IP, WB, FACS, IHC
$540

LT12032

Anti-HEL Human IgG2 isotype control
ELISA, IS, IP, WB, FACS, IHC
$540

LT12033
Anti-HEL Human IgG3 isotype control
ELISA, IS, IP, WB, FACS, IHC
$540

 

LT12034
Anti-HEL Human IgG4 isotype control
ELISA, IS, IP, WB, FACS, IHC
$540  

LT12035
Anti-HEL Mouse IgG1 isotype control
ELISA, IS, IP, WB, FACS, IHC
$540  

LT12036
Anti-HEL Mouse IgG2a isotype control
ELISA, IS, IP, WB, FACS, IHC
$540

LT12037
Anti-HEL Mouse IgG2b isotype control
ELISA, IS, IP, WB, FACS, IHC
$540

LT12038
Anti-HEL Mouse IgG2a Agly isotype control
ELISA, IS, IP, WB, FACS, IHC
$540

LT12039
Anti-HEL Mouse IgG3 isotype control
ELISA, IS, IP, WB, FACS, IHC
$540
---

Epitope Tag Antibodies

Isotype controle antibodies

Loading Control Antibodies

Rabbit Monoclonal Antibodies

Signal Transduction Antibodies
Monthly Specials For June