We provide cytokines, growth factors, chemokines, CD antigens, neurotrophins, hormones, enzymes, viral antigens, recombinant proteins, natural proteins, monoclonal antibodies, and polyclonal antibodies.
Please search your products from here!
Introducing: PepMag Conjugation Magnetic Agarose, 10% bead suspension.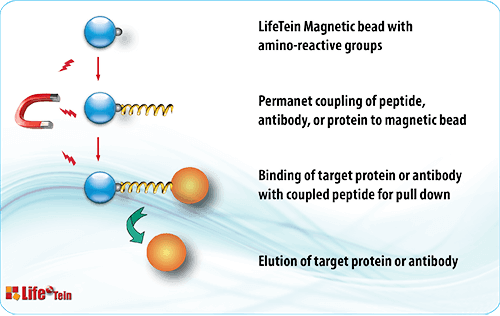 Order PepMag Magnetic Agarose beads for easy peptide conjugation, pull down experiment and binding assays. Simply mix the agarose beads with your peptide through reactions with the amine groups on the peptide. The high surface area of porous magnetic agarose beads results in high binding capacities. The binding of peptide and agarose beads are permanent. For binding with your target protein or antibody, simply mix the conjugated beads with your samples, Wash the beads and elute the protein or antibody using 50 mM glycine pH 2.5. Any buffer that breaks the binding between peptide/protein or peptide/antibody can be used for elution.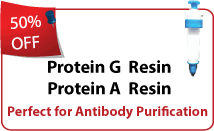 Highlights
LT12005
Stearyl-R8
$260 $150
LT-IPTG
IPTG, dioxane free, 25g
IPTG, dioxane free, 500g
IPTG, dioxane free, 1000g

$850 $450
$1500 $900
$2500 $1500

HPLC
NMR
LT0425
MultiTag Control Protein for Western Blot
$250 $149
35796
Cys(Npys)-(Arg)9: C(Npys)RRRRRRRRR - NH2
$280 $220
LT110006
Amylin (1 - 37), human
$400 $199
LT2460
Beta-Amyloid (1-42), human
$200 $89
L33
Beta-Amyloid (12-28), human
$200 $85
L34
Beta-Amyloid (13-28), human
$200 $80
Buy one FLAG antibody, Get one FLAG peptide for free. Choice of FLAG peptide or FLAG-Cysteine peptide. Use Code FREEFLAG When Checkout.
Order anti-DYKDDDDK monoclonal antibody from here.
---
Antibody Products:
Cat. No

Product Name

Applications

Price

Download
Data Sheet

Order

LT0420
Anti DYKDDDDK(FLAG)
Monoclonal Antibody
Buy one FLAG antibody,
Get one FLAG peptide for free.
Use Code: FREEFLAG When Checkout.
Dot, ELISA, IS, IP, WB
$190 $150

LT0426
Anti His Monoclonal Antibody
Dot, ELISA, IP, IS, WB 
$190 $50

LT0422
Anti HA Monoclonal Antibody
Dot, ELISA, IP, IS, WB
$110

LT0421
Anti cMyc Monoclonal Antibody
Dot, ELISA, IP, IS, WB
$210 $150

 LT0423
Anti GST Monoclonal Antibody
Dot, ELISA, IP, IS, WB
$220 $120

 LT9992
Anti V5 Monoclonal Antibody
Dot, ELISA, IP, IS, WB
$150

LT9994
Anti GFP Monoclonal Antibody
Dot, ELISA, IP, IS, WB
$100 

 LT9993
Anti RFP Monoclonal Antibody
Dot, ELISA, IP, IS, WB
$110

LT9999
Anti β-Actin Monoclonal Antibody
Dot, ELISA, IS, WB
$210 $150  

 LT9995
Anti GAPDH Monoclonal Antibody
Dot, ELISA, IS, WB
$210 $110  

LT9991
Anti β Tubulin Monoclonal Antibody
Dot, ELISA, IS, WB
$210 $110  

 LT9998
Anti ERK1 (E19) Monoclonal Antibody
IP, WB
$260Â Â 

 LT9997
Anti ERK1 (E32) Monoclonal Antibody
IP, WB
$260 

 LT9996
Anti ERK1/2 Monoclonal Antibody
WB
$260
---