We provide cytokines, growth factors, chemokines, CD antigens, neurotrophins, hormones, enzymes, viral antigens, recombinant proteins, natural proteins, monoclonal antibodies, and polyclonal antibodies.
Please search your products from here!
Introducing: PepMag Conjugation Magnetic Agarose, 10% bead suspension.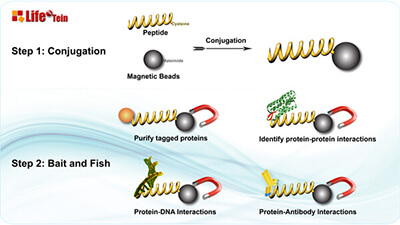 Order PepMag Magnetic Agarose beads for easy peptide conjugation, pull down experiment and binding assays. Simply mix the agarose beads with your peptide through reactions with the amine groups on the peptide. The high surface area of porous magnetic agarose beads results in high binding capacities. The binding of peptide and agarose beads are permanent. For binding with your target protein or antibody, simply mix the conjugated beads with your samples, Wash the beads and elute the protein or antibody using 50 mM glycine pH 2.5. Any buffer that breaks the binding between peptide/protein or peptide/antibody can be used for elution.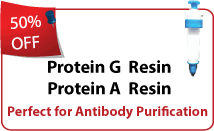 Highlights
LTCY-0001
Mannose-6-phosphate isomerase
$1500 $950
LTCN12115

Human Sphingomyelin synthase 1, recombinant

$9,000

LTCN12116

Human Sphingomyelin synthase 2, recombinant

$9,000

LT12014

Alkali-tolerant Recombinant Protein A Conjugated to Agarose Resin

$280 $150

LT13512

Protein A Magnetic Agarose Resin

$280

LT13513

Peptide Conjugation Magnetic Agarose Resin

$280

LT12015

Recombinant Protein G Conjugated to Agarose Resin

$350 $165

LT12010

Recombinant Human Copper, Zinc-Superoxide Dismutase

$230
LifeTein provides special protein products including Alkali-tolerant Protein A, Protein G, streptavidin, human fibroblast growth factors, human vascular endothelial growth factor, human growth hormone, and human copper, zinc-superoxide dismutase.
Protein A is derived from Staphylococcus aureus. Protein G is derived from a Streptococcus species. Both have binding sites for the Fc portion of mammalian IgG. Protein G has a higher affinity for rat, goat, sheep, and bovine IgG, as well as for mouse IgG1 and human IgG3. Protein A has a higher affinity for cat and guinea pig IgG. Protein G is recommended for most species, including mouse and rat. Protein A is recommended for cat and guinea pig. Neither is recommended for detection of IgA or IgM, for detection of Fab fragments, or for detection of avian IgG.
Streptavidin is a tetrameric protein which binds very tightly to the small molecule, biotin. The binding constant for this interaction is very high and has made the streptavidin/biotin system the tool for intermolecular interactions.
Fibroblast Growth Factor-basic (FGF-b) is a heparin binding growth factor which stimulates the proliferation of a wide variety of cells including mesenchymal, neuroectodermal and endothelial cells.
LifeTein's recombinant Superoxide Dismutase belongs to Human Copper, Zinc-Superoxide Dismutase (rh-SOD1). Superoxide dismutase is a metalloenzyme. This enzyme binds to molecules of copper and zinc to break down toxic, charged oxygen molecules called superoxide radicals.
---
Protein Products:
---
Affinity of Protein A/G for IgG Types from Different Species
Species
Immunoglobulin
Binding to Protein A
Binding to Protein G
Human
lgG (normal)
++++
++++
lgG1
++++
++++
lgG2
++++
++++
lgG3
-
++++
lgG4
++++
++++
lgM
-
-
lgA
-
-
lgE
-
-
Mouse
lgG1
+
++++
lgG2a
++++
++++
lgG2b
+++
+++
lgG3
++
+++
Rat
lgG1
-
+
lgG2a
-
++++
lgG2b
-
++
lgG2c
+
++
Goat
lgG
+/-
++
Rabbit
lgG
++++
+++
Sheep
lgG
+/-
++