Modifications: Stapled peptide synthesis and special amino acids
LifeTein offers stapled peptide synthesis and special amino acids and modifications, including Fluoromethylketone (FMK), Glycosylation, chloromethylketone (CMK), N-methyl amino acids, unnatural amino acids, acetyl-lysine, beta-alanine, aminobenzoic acid, amidation, acetylation, Abu, citrulline, Acm, dimethyl-lysine, hydroxy-proline (Hyp), methyl-lysine, mercaptopropionic acid, nitro-tyrosine, norleucine (Nle), pyro-glutamic acid (Pyr), carbobenzoxyl (Z), succinic acid, and sulfurylation.
LifeTein offers stable isotope labeled peptides with amino acids enriched in 13C, and 15N. These 13C/15N peptides are similar to their native peptides in terms of chemical, physical properties, and biological activities. These peptides are used to study protein interactions and post-translation modifications such as ubiquitination and phosphorylation.
Peptide stapling is a strategy for constraining short peptides in an alpha-helical conformation. LifeTein's stapling is carried out by covalently linking the side-chains of two amino acids, thereby forming a peptide macrocycle. The stapled peptides can be used for intracellular drug targets because stapling can increase the target affinity and proteolytic resistance. The hydrocarbon-stapling is achieved by ring-closing olefin metathesis between two functionalized non-natural building blocks, either R8-S5 or S5-S5. S5 stands for S-2-(4′-pentenyl) alanine. R8 stands for R-2-(7′-octenyl) alanine.
Hydrocarbon stapled α-helical peptides are capable of targeting and interfering with intracellular protein-protein interactions. These peptides contain a synthetic brace, introduced across one face of an α-helix. The structure can increase α-helical content and protease resistance, enhance target binding affinity, and promote cell membrane penetration.Three types of stapled peptides are used with optimized combinations of non-natural building blocks such as (R)-N-Fmoc-2-(7'-octenyl) alanine and (S)-N-Fmoc-2-(4'-pentenyl) alanine. For example, the stitched peptide can be generated by the introduction of S5 at the i position, B5 at the i + 4 position, and S8 at the i + 11 position.
Perfluoroarene-Based peptide macrocycles contain rigid perfluoroaromatic staples. This method is selective towards cysteines and provides staples featuring lipophilic perfluorinated moieties.
Perfluoroarene-based peptide macrocycles: This stapling modification performed on a peptide sequence showed enhancement in binding, cell permeability, and proteolytic stability properties, as compared to the unstapled analog.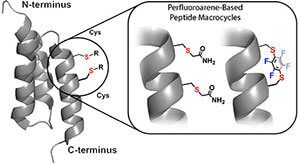 Please click here to get a peptide synthesis service quote now!