Antibody Product Promotions
Purchase any two antibody products and receive a listed antibody product of equal or lesser value for free (Epitope Tag Antibodies Only). Order starting from now to Oct. 31, 2017.!
Order two products online at regular price. Enter the promotion code STOCKUP and the name of the free antibody in the Special Instructions or Comments About Your Order area. Offers are valid from now to Oct. 31, 2017. This offer is not to be combined with any other promotions or quotes. Must use the promotion code STOCKUP to redeem.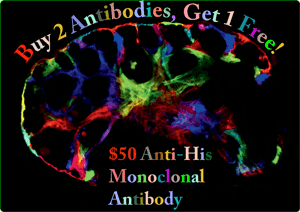 LifeTein provides a complete portfolio of antibody services including peptide synthesis and polyclonal and monoclonal production, development, and purification services. As a leading provider of superior custom antibody development services, LifeTein promotes the understanding of life one protein at a time and offers a wide range of industry-leading platforms and services. LifeTein can customize a discovery and development path to fit your exact needs.
Highlights
Featured Products:
Epitope tagging is widely used in the characterization of proteins. This technique makes it possible to detect proteins for which no antibodies are available. LifeTein provides a series of epitope tag monoclonal antibodies including the FLAG, 6XHis, GST, cMyc, HA, V5, GFP and RFP. One of the most important applications of epitope-tagging is co-immunoprecipitation. Using biotin or epitope tag labeled bait peptides or proteins, researchers can co-immunoprecipate the targets directly with the anti-tag antibodies. The protein complex can then be detected by Western blot analysis.
Multiple tags include multiple copies of the FLAG, His or cMyc are frequently used to increase the signal strenth. FLAG and 6His dual tagging makes it easier for detection of fusion proteins with anti-FLAG antibody and purification by nikel affinity chromatography.
LT0420
Anti DYKDDDDK(FLAG)
Monoclonal Antibody
Buy one FLAG antibody,
Get one FLAG peptide.
Use Code: FREEFLAG When Checkout.
Dot, ELISA, IS, IP, WB
$190 $150

LT0426

Anti His Monoclonal Antibody

Dot, ELISA, IP, IS, WB
$190 $50

LT0422

Anti HA Monoclonal Antibody

Dot, ELISA, IP, IS, WB
$110

 

LT0421

Anti cMyc Monoclonal Antibody

Dot, ELISA, IP, IS, WB
$210 

LT0423

Anti GST Monoclonal Antibody

Dot, ELISA, IP, IS, WB
$220 

LT9992

Anti V5 Monoclonal Antibody

Dot, ELISA, IP, IS, WB
$150

LT9994

Anti GFP Monoclonal Antibody

Dot, ELISA, IP, IS, WB
$100

LT9993

Anti RFP Monoclonal Antibody

Dot, ELISA, IP, IS, WB
$110

LT9999
Anti β-Actin Monoclonal Antibody
Dot, ELISA, IS, WB
$210

LT9995
Anti GAPDH Monoclonal Antibody
Dot, ELISA, IS, WB
$210

  LT9991
Anti β Tubulin Monoclonal Antibody
Dot, ELISA, IS, WB
$210  

LT9998
Anti ERK1 (E19) Monoclonal Antibody
IP, WB
$260

LT9997
Anti ERK1 (E32) Monoclonal Antibody
IP, WB
$260

LT9996
Anti ERK1/2 Monoclonal Antibody
WB
$260
Anti-HEL (Hen Egg Lysozyme) IgG isotype control
LT12031
Anti-HEL Human IgG1 isotype control
ELISA, IS, IP, WB, FACS, IHC
$390

LT12032

Anti-HEL Human IgG2 isotype control
ELISA, IS, IP, WB, FACS, IHC
$390

LT12033
Anti-HEL Human IgG3 isotype control
ELISA, IS, IP, WB, FACS, IHC
$440

 

LT12034
Anti-HEL Human IgG4 isotype control
ELISA, IS, IP, WB, FACS, IHC
$440  

LT12035
Anti-HEL Mouse IgG1 isotype control
ELISA, IS, IP, WB, FACS, IHC
$440  

LT12036
Anti-HEL Mouse IgG2a isotype control
ELISA, IS, IP, WB, FACS, IHC
$440

LT12037
Anti-HEL Mouse IgG2b isotype control
ELISA, IS, IP, WB, FACS, IHC
$440

LT12038
Anti-HEL Mouse IgG2a Agly isotype control
ELISA, IS, IP, WB, FACS, IHC
$440

LT12039
Anti-HEL Mouse IgG3 isotype control
ELISA, IS, IP, WB, FACS, IHC
$440
Common Epitope Tags
| | | | |
| --- | --- | --- | --- |
| FLAG | DYKDDDDK | FG4R | Immuno-affinity |
| 6 × His | HHHHHH | Anti-HIS | Metal affinity |
| HA | YPYDVPDYA | Anti-HA | Immuno-affinity |
| c-Myc | EQKLISEEDL | Anti-cMyc | Immuno-affinity |
| GST | 220 aa GST | Anti-GST | Glutathione |
| MBP | Maltose-binding protein | Anti-MBP | Maltose |
| CBD | Chitin-binding domain | Anti-CBD | Chitin |
| Protein A | IgG-binding domain | IgG | IgG |
| TAP | Calmodulin- and IgG-binding domains | Anti-CBP | Calmodulin and IgG |
| Avitag | GLNDIFEAQKIEWHE | Avidin | Avidin |
| Strep-tag | WSAPQFEK | Strep-Tactin | Strep-Tactin |
| SF-TAP | Strep Tag II and FLAG | Anti-FLAG | Strep-Tactin |