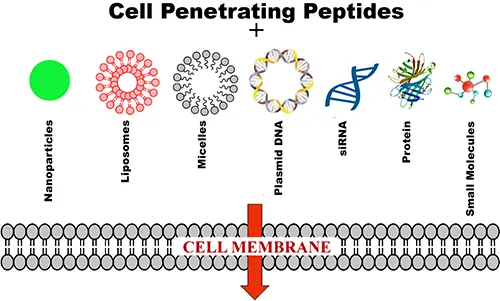 The process of introducing drugs into cells has always proved a major challenge for scientists. However, cell-permeable peptides (CPPs) have the ability to enter the plasma membrane of a cell independent of a membrane receptor. They are usually small peptides 10–30 residues in length with positively charged amino acid sequences.
CPPs are capable of delivering biologically active cargo to the cell interior. The desired therapeutic cargo could be attached to a CPP and then delivered to an intracellular target, thereby overcoming the entry restrictions set by the plasma membrane.
CPPs have gained widespread popularity as very promising non-viral transmembrane delivery vectors. Although they have been used successfully for carrying different cargoes of varying sizes and nature (plasmid DNA, peptides, proteins, nanoparticles, quantum dots, etc.), the most rapid progress has been made with the delivery of oligonucleotides (ONs).
We have a list of in-stock CPPs ready to conjugate with your targets. Your target can be a peptide, protein, fluorescent dye, or nanoparticle. Click for a full list of Cell Permeable Peptides.
Antennapedia Peptide
RQIKIWFQNRRMKWKK;
C(Npys)-RQIKIWFQNRRMKWKK;
C-RQIKIWFQNRRMKWKK;
RQIKIWFQNRRMKWKK-C;
In Stock
Penetratin
(GG linker)
RQIKIWFQNRRMKWKK-GG;
C-RQIKIWFQNRRMKWKK-GG;
RQIKIWFQNRRMKWKK-GG-C;
In Stock
Penetratin
and Labeled Antennapedia peptides
RQIRIWFQNRRMRWRR;
C-RQIRIWFQNRRMRWRR;
{FITC-LC}-RQIKIWFQNRRMKWKK;
{5-FAM}-RQIKIWFQNRRMKWKK;
{Cy3}-RQIKIWFQNRRMKWKK;
{Cy5}-RQIKIWFQNRRMKWKK;
{Alexa488}-RQIKIWFQNRRMKWKK;
In Stock
(Arg)9 Oligomer peptides
Fluorescent Labeling
Stearyl-R8;
FITC-Stearyl-R8;
RRRRRRRRRC;
C(Npys)RRRRRRRRR;
C(Npys)rrrrrrrrr, r is D amino acid;
{FAM}-RRRRRRRRR;
{TAMRA}-RRRRRRRRR;
{Biotin}-RRRRRRRRR;
{Cy Dyes}-RRRRRRRRR;
{Alexa Dyes}-RRRRRRRRR;

In Stock
TAT (47-57)
and Variants
YGRKKRRQRRR ;
C-YGRKKRRQRRR;
YGRKKRRQRRR-C;
{Biotin}-YGRKKRRQRRR;
{FAM}-YGRKKRRQRRR;
{TAMRA}-YGRKKRRQRRR;
YGRKKRRQRRRGGGC(Npys);
C(Npys)YGRKKRRQRRR-K(FAM);
MDYKDHDGDYKDHDIDYKDDDDK;

In Stock
TAT GluR23 variants
TAT-NSF222 Fusion Peptide
TAT-NSF700 Fusion Peptide
HIV-1 Tat (48-60)

YGRKKRRQRRR;
YGRKKRRQRRRYKEGYNVYG;
YGRKKRRQRRRVYKYGGYNE;
YGRKKRRQRRRAKEGANVAG;
YGRKKRRQRRR GGG LDKEFNSIFRRAFASRVFPPE;
YGRKKRRQRRR GGG ENSFRFLADIFPAKAFPVRFE;
YGRKKRRQRRR GGG LLDYVPIGPRFSNLVLQALLVL;
YGRKKRRQRRR GGG IPPVYFSRLDLNLVVLLLAQL;
GRKKRRQRRRPPQ;
Cys-GRKKRRQRRRPPQ;
GRKKRRQRRRPPQC;
Cys-GRKKRRQRRR;
RRRQRRKKRGGDIMGEWGNEIFGAIAGFLG;
YGRKKRRQRRRKLSSIESDV;

Crude Peptide In Stock,
HPLC Purify in 5 Days
Cell Permeable-Mastoparan Peptide
NGR peptide, Aminopeptidase N Ligand (CD13)
NGR Peptide 1
Anti-BetaGamma (MPS-Phosducin-like protein C terminus)
Buforin 2
Rabies Virus Glycoprotein (RVG)
Chimeric Rabies Virus Glycoprotein Fragment (RVG-9R)
IKKgamma NEMO Binding Domain (NBD) Inhibitory Peptide
KALA
NF-kB Inhibitor, SN50
pVEC (Cadherin-5)
SV40 Large T-antigen Nuclear Localization Signal (NLS)
SV40 Large T-antigen Nuclear Localization Signal (NLS) derived peptide
TfR Targeting Peptide
Transdermal Peptide
Transportan
Pep-1
Pep-1-Cysteamine
cardiac targeting peptide (CTP)

INLKALAALAKKIL-NH2;
CNGRCG (Disulfide bridge: 1-5);
CNGRCGGklaklakklaklak-NH2 (Disulfide bridge: 1-5);
AAVAL LPAVL LALLA VTDQL GEDFF AVDLE AFLQE FGLLP EKE;
TRSSRAGLQFPVGRVHRLLRK;
YTIWMPENPRPGTPCDIFTNSRGKRASNG;
YTIWM PENPR PGTPC DIFTN SRGKR ASNGG GGRRR RRRRR R;
DRQIKIWFQNRRMKWKKTALDWSWLQTE;
WEAKLAKALAKALAKHLAKALAKALKACEA;
AAVALLPAVLLALLAPVQRKRQKLMP;
LLIILRRRIRKQAHAHSK;
PKKKRKVEDPYC;
CGGGPKKKRKVED;
THRPPMWSPVWP;
ACSSSPSKHCG;
GWTLNSAGYLLGKINLKALAALAKKIL;
KETWWETWWTEWSQPKKKRKV;
Ac-KETWWETWWTEWSQPKKKRKV-cysteamine;
APWHLSSQYSRT

Crude Peptide In Stock,
HPLC Purify in 5 Days