Chemical Products
Active Pharmaceutical Ingredients (APIs) and intermediates
bazedoxifene acetate, indacaterol, vilozodone, ezetimibe, rivaroxaban, ritonavir, linaglitine, ticagrelor, sofosbuvir, linezolid, canagliflozin, pregabalin, apixaban, dabigatran, sitagliptin, peramivir, prasugrel, and dapagliflozin.
Fmoc-Amino Acids
Amino Acid Resins
Merrifield Resins
Pam Resin Series
Wang Resin Series
Trt Resin Series

Other Chemicals
Labeling Reagents
Linkers for Solid Phase Synthesis
N-Protecting Reagents
Unusual Amino Acids
Amino Acids Derivatives
Z-Amino Acids
Amino Alcohols
N-Methyl amino acids

---
Related Peptide Products
Click Here to Start the Catalog Peptide Online Order: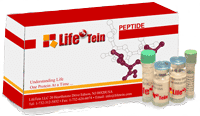 Quotation
Please complete the Quotation Form for the peptide you would like to purchase. We will give you a price quote.
Please fax (1-888-791-1618) or email us at chemical@lifetein.com for your requests, CLICK HERE to download our printable Quotation Form.