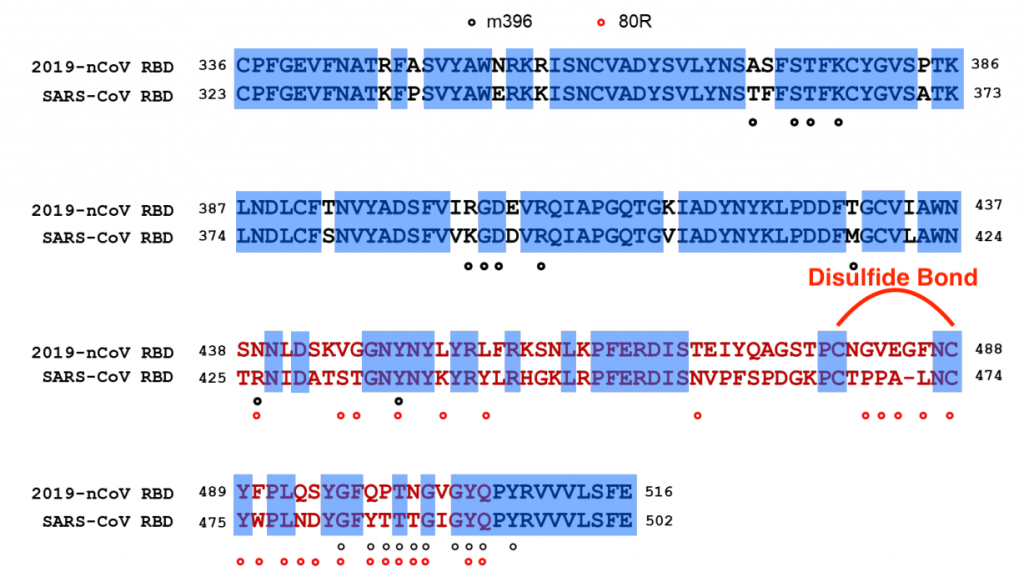 The extensive structural analyses have revealed that interactions between SARS-CoV spike protein receptor-binding domain (RBD) and its host receptor angiotensin-converting enzyme 2 (ACE2), which regulate both the cross-species and human-to-human transmissions of SARS-CoV.
Studies showed that the sequence of 2019-nCoV coronavirus RBD, including its receptor -binding motif (RBM) that directly contacts ACE2 and uses ACE2 as its receptor with much higher affinity (10-20 times higher!) than SARS.
Several critical residues in 2019-nCoV RBM may provide favorable interactions with human ACE2 such as Gln493 and Asn501.
A total of nine cysteine residues are found in the RBD, six of which forming three pairs of disulfide bonds. Among these three pairs, two are in the core (Cys336-Cys361 and Cys379-Cys432) to help stabilize the β sheet structure while the remaining one (Cys480-Cys488) connects loops in the distal end of the RBM.