LifeTein provides a series of magnetic beads for any bioseparation application, from microliter scale to liter scale. Our Magnetic Beads are nano-superparamagnetic beads covalently coated with highly functional groups or compounds such as maleimide, primary amine, NHS (N-hydroxysuccinimide), carboxylic acid, purified streptavidin, protein A, reduced glutathione, nickel-charged nitrilotriacetic acid, and groups for DNA/RNA purification.
Please search for your products from here!
Highlights
LifeTein offers a wide variety of magnetic products. LifeTein's unique coupling chemistry enables fast and efficient covalent conjugation of amino (-NH2) and thiol (-SH) containing proteins and peptides, to the solid core with iron oxide clusters. All steps in the coupling are performed at physiological conditions and at room temperature with high yields and short reaction times. The magnetic product consists of nano-superparamagnetic beads, which are functionalized with high-density maleimide groups. The beads are used to couple thiol-containing ligands such as peptides, proteins, antibodies, and aptamers. Subsequently, target proteins are easily separated from the solution using a magnet for downstream experiments.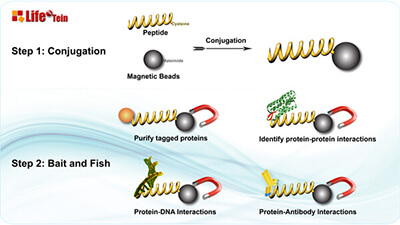 ---
Magnetic Products:
---